Powranna Store Cattle Sale
—————————————————————–
Online Bidder Registration
Register as a bidder online using the link below and simply show your ID and collect your bidders number at the office window on sale day!
—————————————————————–
Online Covid-19 Registration:
All attendees to our sale days must complete a Covid-19 registration form. Please follow the link below or complete your form onsite on the day.
This event has passed and the COVID-19 declaration form is no longer available.
—————————————————————–
First Sale
Nutrien Ag Solutions
Second Sale
Elders Tasmania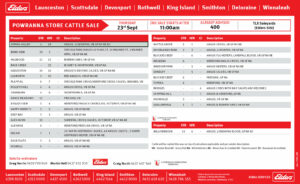 For more information contact your local livestock representative.